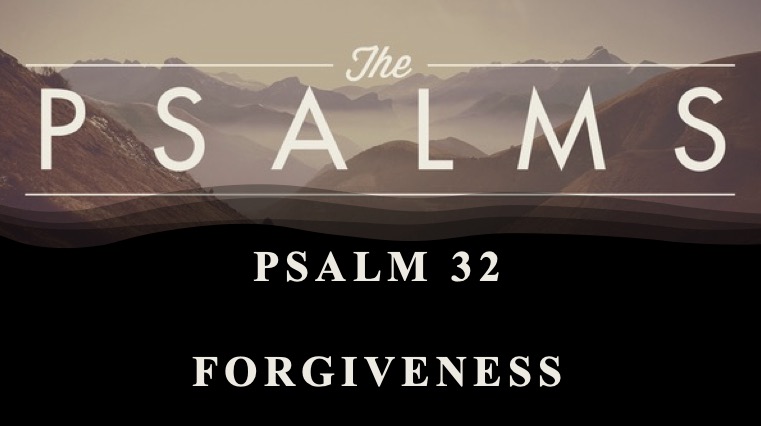 Forgiveness is the heart of the gospel. The gospel is the good news that Jesus came to this earth to live the perfect life, to die a horrible death on a cross as the perfect substitute for filthy, rotten, rebellious, sinners just like you and me, to leave the tomb empty on the third day, and to leave us with the promise of eternity in Heaven, so that, by faith, you and I could receive full forgiveness (a full pardon) for our sins against God.
Jesus did everything that needed to be done to remove the barrier of sin that we placed between ourselves and our perfect Father in Heaven; his life, his death, his resurrection, and his promised return is all centered on him making a way for us to be forgiven. This forgiveness is what David speaks of in Psalm 32…
PSALM 32…

A MASKIL OF DAVID. 1Blessed is the one whose transgression is forgiven, whose sin is covered. 2Blessed is the man against whom the LORD counts no iniquity, and in whose spirit, there is no deceit. 3For when I kept silent, my bones wasted away through my groaning all day long. 4For day and night your hand was heavy upon me; my strength was dried up as by the heat of the summer. Selah

5I acknowledged my sin to you, and I did not cover my iniquity; I said, "I will confess my transgressions to the LORD," and you forgave the iniquity of my sin. Selah

6Therefore let everyone who is godly offer prayer to you at a time when you may be found; surely in the rush of great waters, they shall not reach him. 7You are a hiding place for me; you preserve me from trouble; you surround me with shouts of deliverance. Selah

8I will instruct you and teach you in the way you should go; I will counsel you with my eye upon you. 9Be not like a horse or a mule, without understanding, which must be curbed with bit and bridle, or it will not stay near you. 10Many are the sorrows of the wicked, but steadfast love surrounds the one who trusts in the LORD. 11Be glad in the LORD, and rejoice, O righteous, and shout for joy, all you upright in heart.
To be forgiven is to have the stains of our sin washed completely clean from our hearts like the slate of a chalkboard in a classroom. By faith, our sins can be completely forgiven, and we can experience a clean slate, a clean conscience.
#1: FORGIVENESS MUST BE EXPERIENCED (VV. 1 – 2)
When you read the first two verses of our text you get the sense that David has experienced forgiveness in a really personal way. Some people believe that Psalm 32 is the second half of Psalm 51or at least should be read with Psalm 51.2 Psalm 51 is David's Psalm of confession after he was confronted by the prophet Nathan for using his power to forcibly have sex with Bathsheba and then murder her husband (his friend) to cover up his sin (2 Sam. 11 – 12).
I think we oftentimes get a misguided view of who God loves to forgive. We sometimes believe that God loves to forgive the loveable, but the truth is, God deeply loves to forgive the unlovable. Who could forgive a rapist and a murderer like David? The answer is: God! God loves to forgive rapists and murderers like David!
This is why David begins Psalm 32 with two verses about forgiveness with the words "Blessed (or happy) is the one whose transgression (rebellion) is forgiven (or completely wiped clean), whose sin (those who have missed the mark of perfection) is covered (or hidden and washed away)."
How happy would you be to get all your financial debt (past, present, and future) completely wiped clean?3Wouldn't that be a life changing experience?
If the words of this first verse are not enough to help us experience the full measure of God's forgiveness, David compounds the experience by saying it differently when he says, "Blessed (or happy) is the man against whom the Lord counts no iniquity (or keeps no record of wrongdoing), and in whose spirit, there is no deceit (meaning that this person who has experienced God's forgiveness has not deceived himself or herself into thinking that they have not sinned against God)."
David sees himself as a rebellious traitor who has failed to meet the goal of perfection. He sees himself as the friend who stole his brother's wife, forced her to have sex, and then murdered his friend to cover up his crime.
But alongside that, he sees God as the God who loves to forgive sinful, rebellious, backstabbing, murderous, sex addicts. David isn't pulling any punches here because he is a man who has experienced forgiveness and not only that, but he's also received forgiveness.
#2: FORGIVENESS MUST BE RECEIVED (VV. 3 – 7)
It is impossible to receive a gift with clenched fists; your hands must be open to receive a gift. Forgiveness is a gift from God that must be received and sometimes God forces our hands to open so that we can receive his gift of forgiveness. This is the process that David describes in verses 3 – 7; he describes the process of receiving forgiveness, beginning with stubborn silence, moving on to reluctant confession, and ending with a shout of deliverance.4
David says in verses 3 – 4 that he tried hard to conceal his sin in silence and that it felt like his bones were wasting away as he groaned inwardly like an exhausted man on a hot day because God's hand was heavy upon him. No matter how much David tried to hide his sin from God, his Heavenly Father loved him too much to leave him alone in his secret sin.
The subtle lie that Satan wants you and I to believe is that we need to keep our sin secret so that God won't leave us. But God knows that secret sin will kill us so he comes after us, he chases us down in the deepest and darkest jungles of our secret sin and he works to correct our unbelief.
Because God lovingly corrects his children when we sin and because he refuses to leave us in the darkness of our sin, he will continue to squeeze us like a soaking wet sponge until we give in and receive his forgiveness.
David couldn't bear the pressure any longer so in verse 5 he says, "I acknowledged my sin to you, and I did not cover my iniquity; I said, 'I will confess my transgressions to the Lord,' and you forgave the iniquity of my sin." God's convicting pressure led to David's full confession of sin which then led to David receiving a full pardon for his betrayal.
Like an American soldier who betrayed his country by becoming a terrorist and then realized the error of his ways and received a full pardon, David is now a man who has received a clean slate from the God who loves to forgive as he throws the memory of our betrayal as far as the East is from the West and as high as the Heavens are above the Earth (Psalm 103).5
When we truly receive this kind of forgiveness, we can't help but to encourage others to receive it too and all we can do is talk about the God who loves to forgive even the most despicable of sinners. This is why David encourages everyone to ask God for forgiveness and then he promises that God will protect us from the waves of doubt, and guilt, and shame in verse 6.
David had received God's forgiveness and he couldn't keep his mouth shut any longer. God's forgiveness had transformed David from a man of silent and secret sin into a man who openly and publicly confessed his sin and proclaimed the way for others to be forgiven.
The final proof that David had truly received forgiveness is that he praised God for being his hiding place, for preserving him and for filling his heart with shouts of freedom in verse 7. Forgiveness must be experienced in light of how bad we really are and how unimaginably good God really is.
Then and only then can we truly receive the gift of forgiveness even if it means that God has to pry our hands open so that we can receive the gift that leads to complete freedom. Once we get a taste for the freedom that God gives us in complete forgiveness, then we will begin to grow in godliness.
#3: FORGIVENESS PRODUCES GODLINESS (VV. 8 – 11)
A person who has truly experienced and received God's forgiveness is a person who is ready to continue growing. This is why God says that he will instruct us and teach us and counsel us and keep a close eye on us in verse 8.
This is God's desire, that we would experience and receive his forgiveness, so that he can instruct, teach, and counsel us as he watches over us. This brings up the image of a loving father who trains, guides, and protects his children so that they grow and mature into all that he intended them to be.
I think that once you and I get this vision for our Heavenly Father, it becomes easier not to be like the stupid horse or the stubborn mule who needs a painful bit in its mouth (v. 9).
Once we have experienced and received God's full forgiveness for our crimes against him, I think it becomes a little easier to have a serious distaste in our mouths for wickedness because we are so overwhelmed with the steadfast love of God as we continue to trust in him (v. 10).
The kind of godliness that forgiveness produces is the kind of godliness that finds complete happiness (complete joy) in the presence of a completely forgiving Heavenly Father (v. 11).
CONCLUSION…
I shared the story last week of a little boy who was stuck on the rooftop of his burning home while his father was screaming through the smoke filled sky for his son to just blindly jump off the roof in full faith that his Father would catch him and bring him into safety.
Oftentimes, it's really hard to jump through those clouds of smoke because we can't see our Heavenly Father on the other side. Oftentimes we believe the lie that says that our Heavenly Father won't actually catch us. But I also think there's something deeper to our mistrust in those moments.
I think the deeper issue is that we know that we are the ones who started the fire in our home. And I think we also know that our Heavenly Father knows that we just destroyed the home he gave us and that we are in the process of destroying the very life he gave us. But the beauty of the gospel is that our Heavenly Father is ready and waiting to give us the gift of his full and complete forgiveness as we jump through those flames in faith.
This is what it looks like to experience and to receive God's forgiveness and to trust in him as he shows us how to live in the freedom he offers us at the foot of the bloody cross, in the doorway of the empty tomb, in light of the hope of Heaven. Have you experienced and received this kind of forgiveness?
In what ways do you need to experience God's complete forgiveness right now? What sins do you need to confess so that you can receive God's complete forgiveness? What would it look like for you to walk in the freedom of God's forgiveness? My hope and my prayer is that you would experience and receive God's forgiveness and that the result of that would be increased godliness in your life. – Amen!
---
1 Unless otherwise specified, all Bible references in this paper are to the English Standard Version Bible, The New Classic Reference Edition (ESV) (Crossway, a publishing ministry of Good News Publishers, 2001).
2 James A. Johnston, The Psalms: Rejoice, the Lord is King, Vol. 1, (Wheaton, Illinois: Crossway, 2015), 328.
3 Ibid., 330.
4 Ibid., 332 – 334.
5 Ibid., 330.