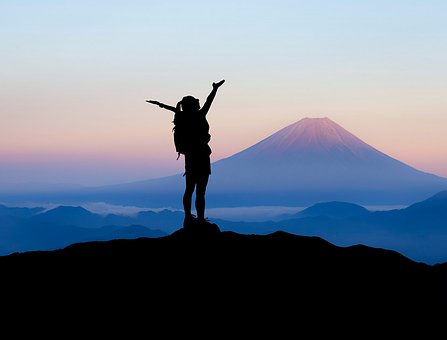 Music is moody. Even for the most unemotional of people, music has a way of moving our emotions. Genre matters too. Country music can emotionally move you to the bank of a stream with a fishing pole and a cooler of drinks. Pop and rap music can put you into a dancing mood. Blues music can move you to inner reflection.
Light rock, like that of Journey or Kansas, can make you want to snuggle with your loved ones a little closer. Heavy or hard rock with it's screeching guitars and pounding drums can make even the most fearful of us feel like we are ready to charge a mountain. Regardless of whether or not you like all of these genres, the fact remains that music is moody and music can oftentimes move our emotions into a different place or at the very least can act as an extension of our emotions in that immediate moment.
The same is true of songs like the ones we sing on Sunday mornings. Some of them are slow and melodic and they draw out the emotions of our hearts, sometimes in painful ways and sometimes in encouraging ways. Some of the songs we sing are heavy and loud and rhythmic as they remind us of the victory we have in Christ as we live in the warzone of this sin infected life. These songs give us strength. They bolster our courage and they motivate us to keep fighting the good fight of faith. Music is moody and the mood of a song has the power to reveal our deepest affections and transform our lives.
This is why the Psalms have been such a main staple of my spiritual diet for nearly 20 years of following Jesus. The Psalms are no joke. They are raw. They are real. They don't sugar coat anything and they always increase my affections for more of the Lord. Psalm 9 is no exception. Take a look at it with me…
Psalm 9…
To the choirmaster: According to Muth-Labben. A Psalm of David. 1 I will give thanks to the Lord with my whole heart; I will recount all of your wonderful deeds. 2 I will be glad and exult in you; I will sing praise to your name, O Most High. 3 When my enemies turn back, they stumble and perish before your presence. 4 For you have maintained my just cause; you have sat on the throne, giving righteous judgment. 5 You have rebuked the nations; you have made the wicked perish; you have blotted out their name forever and ever. 6 The enemy came to an end in everlasting ruins; their cities you rooted out; the very memory of them has perished. 7 But the Lord sits enthroned forever; he has established his throne for justice, 8 and he judges the world with righteousness; he judges the peoples with uprightness. 9 The Lord is a stronghold for the oppressed, a stronghold in times of trouble. 10 And those who know your name put their trust in you, for you, O Lord, have not forsaken those who seek you. 11 Sing praises to the Lord, who sits enthroned in Zion! Tell among the peoples his deeds! 12 For he who avenges blood is mindful of them; he does not forget the cry of the afflicted. 13 Be gracious to me, O Lord! See my affliction from those who hate me, O you who lift me up from the gates of death, 14 that I may recount all your praises, that in the gates of the daughter of Zion I may rejoice in your salvation. 15 The nations have sunk in the pit that they made; in the net that they hid, their own foot has been caught. 16 The Lord has made himself known; he has executed judgment; the wicked are snared in the work of their own hands. Higgaion. Selah. 17 The wicked shall return to Sheol, all the nations that forget God. 18 For the needy shall not always be forgotten, and the hope of the poor shall not perish forever. 19 Arise, O Lord! Let not man prevail; let the nations be judged before you! 20 Put them in fear, O Lord! Let the nations know that they are but men! Selah.
Notice the first words of the Psalm: To the choirmaster: According to Muth-Labben. A Psalm of David. The choirmaster is the song leader and according to Muth-Labben tells us the rhythm or the beat of the song. Much like saying "according to, Mary had a little lamb".
In my study this week I am prepared to say that I believe this Psalm is a hard rock song with hints of heavy metal strewn throughout it. It's a song of victory. Or as Charles Spurgeon says it's a song of triumph. Our King, Jesus, has been triumphant over every power that comes against us both physical and spiritual. Look at Psalm 9 again with me and pay attention to the rhythmic thumping of the victorious triumph we have in Christ Jesus.
#1: God Has Been Triumphant In The Past (1 – 6)
David is pouring his heart out to the Lord as he surveys the wonderful actions of the Lord in the past. He's not going at it half-heartedly. He's pouring out grateful praise to the Lord with his whole heart. In God, David finds his gladness because of the Lord's triumph in the past. He's seen his enemies fall down into destruction because of the Lord's preservation of him. He recognizes that God alone is the one who has sustained or maintains or preserves his life. He recognizes that God alone is the one who sits in perfect judgment of his enemies.
At the very word of God David's enemies have been rightly scolded. They have perished because of their own wickedness. Their names have been wiped out. They are like nameless people without hope. Their lives are in complete and utter ruins. Everything they sought to build with their human hands has been destroyed. They are forgotten. This is the kind of victorious triumph that our God has over every enemy that comes against us whether that enemy be physical or spiritual. The cross and the empty of Jesus Christ have utterly destroyed all that could harm us with any lasting harm. Satan has been castrated. Sin has been erased and the grave holds no power over the believer's life. Do you believe this? Do you believe that God has been triumphant in your past?
#2: God Will Be Triumphant In The Future (7 – 12)
Our lives are not just made up of past events. Old hurts, old wounds and old victories. We live in the present. But before our song moves to the present it moves to the future so that we may find hope for the present. David says that not only can we look back and observe the triumph of our God in the past but we can also look forward and anticipate his triumph in the future. He reminds us that the Lord is still on his throne and he will never be removed from it. It's an eternal throne where our God reigns supreme in perfect justice.
This is God's character on display and in his character there is no blemish and there is no variation. He's completely trustworthy. He does not change. Because of this, we can trust him completely. He is a place of refuge when we are oppressed and depressed. He is a hiding place when we need to escape the trouble of this life. If you know him then you trust him and if you trust him then you know him. If you look for him he will not be hard to find. He will never leave you and he will never forsake you if you are chasing after him. A person who believes all of this can't help but sing praises to our God. They can't help but to tell everyone about how great and majestic and powerful and trustworthy our Father is. Is this you? Do you trust him? Do you believe this? Do you believe that God will be triumphant in the future?
#3: God Is Triumphant In Affliction (13 – 14)
Our song has moved our emotions to reflect on the past and to look to the future. But now it moves our hearts to ponder the present. Are you afflicted in this present moment? Does it feel like your enemies have you in their teeth? Did you crawl in here this morning just barely getting by? Be encouraged my friends. David reminds us with what I perceive to be the loud booming of a driving drum when he says that God avenges the blood of the saints. He sees you. He's thinking about you. You haven't left his mind if you belong to him.
You may come to him just like David in this song and you may cry out for his grace and his mercy. You can beg him to see your affliction. You can cry out to him because of your hateful enemies whether they are physical or spiritual. God alone is the one who holds the power to lift you up when you feel like you are about to die. But notice this, in verse 14, David's not just amped up because he knows God will triumph in the midst of his current affliction. He's not just jacked up to get out of some painful circumstance. He's jacked up because he knows that when God shows up it will be another opportunity for him to proclaim the wonderful works of God. For David this song isn't about getting out of trouble. This song is all about proclaiming the victory and the triumph of our gracious and merciful and faithful God. God is not a god who leaves you in your affliction. God is a God who meets you triumphantly in your affliction. Do you believe this? Do you believe that God is triumphant in affliction?
#4: God Is Triumphant In Judgment (15 – 16)
Our God is perfect and impartial in his execution of judgment. The punishment always fits the crime. Even for those of us who have trusted in Christ, the punishment that Jesus bore on the cross was more than adequate to pay the price for our war crimes against him. For those who have not trusted in Christ and have continued in their unholy war against God, you can be assured that they too will pay a price that fits their crime.
They will sink in the pits they dig. They will fall into the nets they cast. They will be found out by the work of their very own hands. This is a comfort to any who have been falsely accused or wrongfully wounded. Our God will be perfect in his execution of judgment against our and ultimately his enemies. He will make himself known on the Day of Judgment. Perfect justice will prevail in the perfect presence of God.
This truth should cause all of us to stop and reflect and ask… do I believe this? Do I believe that God is triumphant in judgment? What difference should this make in my life if I do believe this? How should my heartstrings be tuned in this moment? Ponder that for a minute before we move on…
#5: God Is Triumphant In Justice (17 – 18)
One thing we can count on is that justice will prevail. The courtroom of Heaven will not allow a criminal to go free without the penalty being paid. David knows this and I believe he takes comfort in this. He knows that wicked people will not go on living without the sentence being served. For every person who decides to forget God and do what they want, they will be forgotten in eternity. The needy person who knows his desperate need for a Savior will not be put aside. The poor person who knows his pitiful state and places his hope in God will not be left to rot. God is perfectly just and in his justice he triumphs over wickedness and evil. Do you believe this? Do you believe that God is triumphant in justice?
#6: God Is Triumphant In Humility (19 – 20)
A proud person cannot stand in the Day of Judgment. God opposes the proud and he sustains the humble. This is why David can cry out to the Lord to arise and let not man prevail with his wicked human plans. I believe David struggled with pride at some points in his life. I believe he marched to the beat of his own drum a few times at least. But I also know that David has been through some things. He's been humbled by the sheer weight of his own incomplete and inadequate stature as a man. He trusts that the Lord is triumphant in humility. He knows that God is the final judge of all mankind. He desires for others to come to the same place of the knowledge of their humanness so that they might come to a place of humility before God. Do you believe this? Do you believe that God is triumphant in humility?
Conclusion…
What is it that stops us from walking in the victory of our triumphant King? What causes us to lack integrity? What causes us to walk in despair or fear or to be taken over by lust or anger or jealousy or greed? Could the answer just simply be that in the deepest recesses of our hearts and minds, we struggle with unbelief? Don't we all struggle to believe that God is good, faithful, loving, merciful, present, patient and kind? Don't we all look to some earthly thing to get from that earthly thing what only our Father in Heaven can give?
Whether it is a conquest, a relationship, a past time of escape or a new possession or an old dirty habit, we all struggle with trading in the perfect presence of our Heavenly Father for the rotting presence of some earthly thing. At the core of this is simply unbelief.
I think Charles Spurgeon is helpful again here when he says "Unbelief, that hooting night bird, cannot live in the light of divine knowledge, it flies before the sun of God's great and gracious name. In the light of the past the future is not doubtful. Since the same Almighty God fills the throne of power, we can with unhesitating confidence, exult in our security for all time to come."Do you believe this? Do you believe that our God is triumphant in any and every circumstance?