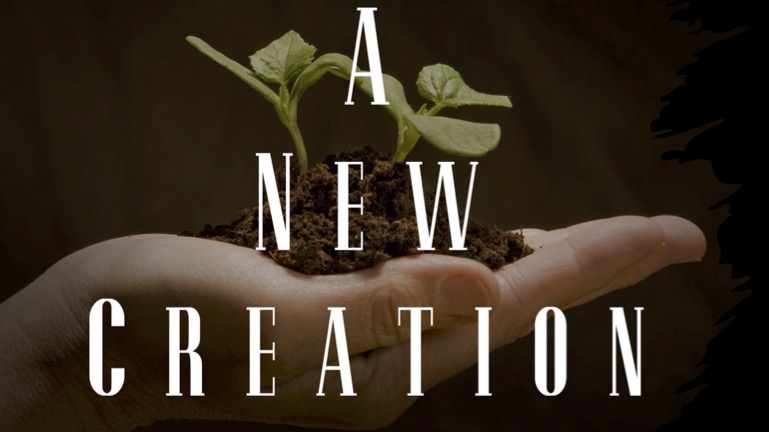 Today is the first day of a new year. 2022 is behind us and 2023 is ahead of us. As a holiday, New Year's has always intrigued me because it is an annual reminder to set new goals for your life for the next year.
Most of us focus on things like losing weight, eating less, exercising more, working less, or working more, paying down debt, becoming more faithful with tithing, one year Bible reading plans, spending more time with friends and family, getting some counseling, etc. The list can go on and on. What is your goal for this new year? Who is the new you that you hope to encounter in this new year?
Identifying areas of growth and then setting goals for future transformation, is a very good thing to do. I am grateful that we have this annual reminder to be about the business of transformation and growth. The reality is that the Christian life is all about being renewed or transformed into the image of Christ. All of the Christian literature and all of the preaching you and I hear, should be about transformation, spiritual growth, being renewed into the image of Christ and living the new life that God has given us.
God is in the business of making us into new creations who are reflecting more and more of Jesus in the world.
With that said, I want to take us on a journey through some key passages of Scripture regarding the new life we have in Christ and hopefully we can make some observations that will help us to continue growing into this new life that we have been given.
2 CORINTHIANS 5:17
2 Corinthians 5:17 says that…
"If anyone is in Christ, he is a new creation. The old has passed away; behold, the new has come."
This passage is a really encouraging passage to read because it promises you and I that if we are in relationship with Jesus then we have been made new and our old selves have been put to death; our old selves have passed away at the cross of Christ. But if I am completely honest, there are days, if not weeks and maybe even entire months, where I do not feel brand new. This does not mean that God is not making me new!
ROMANS 7:22 – 24
I trust that Jesus is making me new but I still wrestle with the old man inside of me just like the apostle Paul in Romans 7:22 – 24 where he says…
"I delight in the law of God, in my inner being, but I see in my members [my body or my physical behaviors] another law waging war against the law of my mind and making me captive to the law of sin that dwells in my members [fully alive in my body]. Wretched man that I am! Who will deliver me from this body of death?"
Have you ever experienced this war between the new man and the old man inside of you? I admit, there are periods of time every year where I feel the hopelessness of this war in a really depressing way. I have been following Jesus for nearly 23 years and I want to please God with my life. But I find myself drinking filthy water all too often and then I am left wondering who will deliver me, from this body of death, wretched man that I am.
We must remember that even after Paul's lament of his own sinful behavior in Romans 7, he still goes right back to his eternal perspective in Romans 8 where he proclaims "No condemnation" from God and "No separation" from God.
At the end of the day, it can be easy to doubt the work of God in and through me when I see the sin in my life. You know what this is like, right? It is hard to hang onto the promise that I am a new creation in Christ Jesus and that the old man inside of me is dying and will be completely dead in the resurrection of the new man that Jesus is making inside of me.
Again, I think this is something that the apostle Paul wrestled with: He knew that God loves to make people into new creations in Christ Jesus and despite our failings here on this earth, the promise of heaven is meant to give us great hope.
PHILIPPIANS 3:12 – 14
In Philippians 3:12 – 14, Paul says that he has not already obtained the perfection of the resurrected life…
"but I press on to make it my own, because Christ Jesus has made me his own. Brothers, I do not consider that I have made it my own [the perfection of the newly resurrected man]. But one thing I do: Forgetting what lies behind and straining forward to what lies ahead, I press on toward the goal for the prize of the upward call of God in Christ Jesus."
Paul will not be controlled by the sins of his past as he presses on toward the goal of full transformation in the presence of God in heaven. A heavenly vision is the key to earthly transformation.
It is almost as though the apostle Paul balances the helpless and hopeless feelings he struggles with, in light of his sin, by keeping his eyes on the eternal promise of total perfection and complete freedom in heaven. But this does not mean that Paul sits around in some kind of defeated slump here on earth as he awaits the full experience of heaven. He says that he strains forward or presses forward in his pursuit of obtaining even a little taste of that perfection and freedom from sin here on this earth as he looks forward to the full realization of heaven.
REVELATION 21:3 – 5
It is almost as though the apostle Paul can see the apostle John's description of heaven in his mind. The apostle John describes heaven in Revelation 21:3 – 5 where he says…
"Behold, the dwelling place of God is with man. He will dwell with them, and they will be his people, and God himself will be with them as their God. He will wipe away every tear from their eyes, and death shall be no more, neither shall there be mourning, nor crying, nor pain anymore, for the former things have passed away. And he who was seated on the throne said, 'Behold, I am making all things new.'"
Again, this gives me great hope, to know that in heaven, you and I will be released from this body of death once and for all and that we will be made perfectly new in Christ Jesus.
I really am convinced that if you and I could grab ahold of that future, eternal, heavenly picture of our fully transformed and perfected selves, then we might be able to gain some more ground in putting that old man of sin to death inside of us.
EPHESIANS 4:22 – 24
With that image of the promise of eternal perfection in heaven, I think we are able to obey the apostle Paul's instructions in Ephesians 4:22 – 24 where he says that you need to…
"Put off your old self, which belongs to your former manner of life, and is corrupt through deceitful desires, and to be renewed in the spirit of your minds, and to put on the new self, created after the likeness of God in true righteousness and holiness."
Simply stated, an eternal vision enables earthly transformation. Again, we serve a God who loves to make all things new, and this happens a little more every time we look forward to heaven. But this process of change is not all on God's shoulders. We have a part to play too! This pursuit of the new life in Christ Jesus is both an active journey and an inactive journey.
On the one hand, we know that it is God who does the work of making us into new creations and that we cannot do anything to earn or enable God in his transformative work; on the other hand, we must also join God in his work of transforming us by doing our part of putting on the new clothing he has given to us (Eph. 2:1 – 10; Phil. 2:12 – 13).
ROMANS 12:1 – 2
In Romans 12:1 – 2 the apostle Paul, says…
"by the mercies of God… present your bodies as a living sacrifice, holy and acceptable to God, which is your spiritual worship. Do not be conformed to this world, but be transformed by the renewal of your mind, that by testing you may discern what is the will of God, what is good and acceptable and perfect."
In other words, worship is a lifestyle that flows out of God's merciful work of transformation, and we are responsible for living out that transformation on a daily basis as we sacrifice our sinful desires on the altar of Christ's work at the cross and the empty tomb.
So, this new life in Christ, is based on the eternal picture of our position in our crucified, risen and returning Savior; it is something that God alone does inside of us; and it is also something that we join him in through our obedience as we rely on him for the strength to obey. God loves to make all things new, and he invites us to join him in the process, but we cannot join him in the process in some over generalized way. We must be specific about the areas of sin in our lives that need to go, and we must also be specific about areas of virtue in our lives that need to grow.
COLOSSIANS 3:1 – 17
To get really specific about how this new life looks in our daily lives, the apostle Paul, in Colossians 3:1 – 4 says…
"If then you have been raised with Christ, seek the things that are above, where Christ is, seated at the right hand of God. Set your minds on things that are above, not on things that are on earth. For you have died, and your life is hidden with Christ in God. When Christ who is your life appears, then you also will appear with him in glory."
In other words, since you and I have trusted in Christ for salvation, then you and I must continue to trust him for our future hope in heaven by keeping our eyes focused on that hope of heaven.
Paul moves on in Colossians 3:5 – 10 where he says…
"Put to death therefore what is earthly in you: sexual immorality, passion, evil desire, and covetousness, which is idolatry. On account of these the wrath of God is coming. In these you too once walked, when you were living in them. But now you must put them all away: anger, wrath, malice, slander, and obscene talk from your mouth. Do not lie to one another, seeing that you have put off the old self with its practices and have put on the new self, which is being renewed in knowledge after the image of its creator."
So, our future picture of perfection in heaven is meant to help us put our old selves to death as we put on our new selves that are constantly being renewed into the image of Jesus.
This process of living the new life and dying to the old life, means that the desires of our hearts, the thoughts in our minds, and the behavior of our lives are constantly being made new as we surrender in obedience to the work of the Spirit within us. As we put off the old life with all its old trappings, we also put on the new life with all of its new trappings.
This is why the apostle Paul describes the new life in specific detail in Colossians 3:12 – 17 where he says…
"Put on then, as God's chosen ones, holy and beloved, compassionate hearts, kindness, humility, meekness, and patience, bearing with one another and if one has a complaint against another, forgiving each other; as the Lord has forgiven you, so you also must forgive. And above all these, put on love, which binds everything together in perfect harmony. And let the peace of Christ rule in your hearts, to which indeed you were called in one body. And be thankful. Let the word of Christ dwell in you richly, teaching and admonishing one another in all wisdom, singing psalms and hymns and spiritual songs, with thankfulness in your hearts to God. And whatever you do, in word or deed, do everything in the name of the Lord Jesus, giving thanks to God the Father through him."
So, it is easy to see that the old life of sin and the new life in Christ are defined by specific desires, behaviors, and thought patterns that either honor or dishonor God. Our responsibility is to constantly surrender in repentance and obedience to Jesus as he reveals the old junk that needs to go and the new man that needs to grow.
CONCLUSION…
In conclusion, we have learned that God is in the business of making us into new creations who are reflecting more and more of Jesus in the world. We are new creations in Christ Jesus; we know that we will still struggle with sin; therefore, we must remain focused on the promise of heaven; we must do our part while God does his; and we must be specific about what growing into this new life looks like.
I think the danger of studying through some of these texts regarding what it means to live the new lives we have been given, is that there is a subtle tendency to get into performance-based religion rather than grace-filled transformation. Performance-based religion merely relies on external behaviors and ignores the inner workings of the heart and mind.
But grace-filled transformation relies on the inner working of the Holy Spirit in the hearts and minds of believers so that our external behaviors begin to line up with the transformation that is happening on the inside of us.
Performance-based religion offers concrete behaviors to embrace or reject. But grace-filled transformation challenges us to pursue a deeper relationship with Jesus through the help of the Holy Spirit. It is an entirely good and God honoring thing to resist sinful behaviors and pursue righteousness. But to do so without pursuing a deeper relationship with Jesus (where the intentions of the heart and the thought patterns of the mind are ignored) to do this, will inevitably lead to you and I trying to live this new life in our own strength. When you and I attempt to do this, grow into the new life that God has given us in our own strength, we will inevitably experience the despair of our human failures or the arrogance of our momentary human success.
So, what does it look like to pursue a relationship with Jesus that enables ongoing transformation? I think it can be helpful to study some of the characters from the Old Testament while observing their relationship with the Lord. One of the characters that has brought me much hope and has often provided me with an image of what it looks like to be in a constant posture of surrender and repentance in the midst of trying to see the old man go and the new man grow, is David.
David had a knack for jacking up his life despite being chosen by God and despite his great knowledge of the Scriptures. In Psalm 51:10 – 12, in response to being confronted for his sin with/against Bathsheba, David says…
"Create in me a clean heart, O God, and renew a right spirit within me. Cast me not away from your presence and take not your Holy Spirit from me. Restore to me the joy of your salvation and uphold me with a willing spirit."
David's relationship with God was based upon repenting and trusting that God not only wants to but is also able to make us into new creations. God is the one who makes the old man go and the new man grow.
Make my heart new, O God! Make my spirit new, O God! Make my joy new, O God! I think these are heart cries that the Lord loves to listen to and act upon; because he is the God who loves to make his people into new creations in Christ Jesus. Amen!
---
1 Unless otherwise specified, all Bible references in this paper are to the English Standard Version Bible, The New Classic Reference Edition (ESV) (Crossway, a publishing ministry of Good News Publishers, 2001).