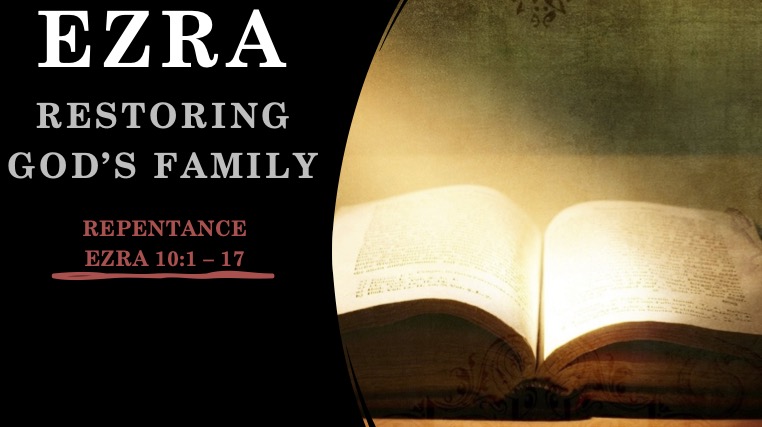 These final portions of the book of Ezra are a sobering case study of the doctrine of sin. Sin is a very serious subject. It should not be taken lightly, and it should not be swept under the rug, minimized, ignored, excused, or justified.
While it appears common among churches today to only speak of God's love and only preach messages of encouragement and hype, true Christianity will welcome the kind of preaching that identifies and condemns sin because God's love, mercy, and grace can only be truly received amidst authentic realization of the seriousness of sin.
The Puritan, John Owen, said that you best "be killing sin or sin will be killing you." Romans 8:13says that "if you live according to the flesh [sin] you will die [spiritually/eternally], but if by the Spirit [the Holy Spirit] you put to death the deeds of the body [sin], you will live [spiritually/eternally]." So, sin is a serious subject that should be taken seriously because it is an eternal matter of spiritual life or death.
Now what is required of someone who comes to an authentic understanding of the gravity of their sin? What is the next step? The next step is to begin fighting sin so that you may put to death what is trying to kill you. This discipline or practice of waging war against our own sin is historically called "repentance." What is repentance? The Scriptures are full of passages that call us to repent. Here are just a few of those passages:
Acts 3:19 "Repent therefore, and turn back, that your sins may be blotted out."
Proverbs 28:13 "Whoever conceals his transgressions will not prosper, but he who confesses and forsakes them will obtain mercy."
2 Chronicles 30:9 "For the LORD your God is gracious and merciful and will not turn away his face from you, if you return to him."
2 Peter 3:9 "The Lord is not slow to fulfill his promise as some count slowness, but is patient toward you, not wishing that any should perish, but that all should reach repentance."
1 John 1:6 – 9 "If we say we have fellowship with him [God] while we walk in darkness [sin], we lie and do not practice the truth. But if we walk in the light [repentance], as he is in the light, we have fellowship with one another, and the blood of Jesus his Son cleanses us from all sin. If we say we have no sin, we deceive ourselves, and the truth is not in us. If we confess our sins, he is faithful and just to forgive us our sins and to cleanse us from all unrighteousness."
So, repentance simply means to turn back or to turn around and head in the opposite direction and the Bible has a lot to say about the seriousness of sin and the need for repentance; all in all, the saying is true, that "without repentance there can be no salvation." And as I said a few moments ago, our passages in Ezra (last week, this week and next week) are a serious case study in what it looks like to recognize and repent from sin; to be killing sin so that sin does not kill you.
Ezra 10:1 – 17…

1While Ezra prayed and made confession, weeping, and casting himself down before the house of God, a very great assembly of men, women, and children, gathered to him out of Israel, for the people wept bitterly. 2And Shecaniah the son of Jehiel, of the sons of Elam, addressed Ezra: "We have broken faith with our God and have married foreign women from the peoples of the land, but even now there is hope for Israel in spite of this. 3Therefore let us make a covenant with our God to put away all these wives and their children, according to the counsel of my lord and of those who tremble at the commandment of our God, and let it be done according to the Law. 4Arise, for it is your task, and we are with you; be strong and do it." 5Then Ezra arose and made the leading priests and Levites and all Israel take an oath that they would do as had been said. So, they took the oath.

6Then Ezra withdrew from the house of God and went to the chamber of Jehohanan the son of Eliashib, where he spent the night, neither eating bread nor drinking water, for he was mourning over the faithlessness of the exiles. 7And a proclamation was made throughout Juda and Jerusalem to all the returned exiles that they should assemble at Jerusalem, 8and that if anyone did not come within three days, by order of the officials and the elders all his property should be forfeited, and he himself banned from the congregation of the exiles.

9Then all the men of Judah and Benjamin assembled at Jerusalem within the three days. It was the ninth month, on the twelfth day of the month. And all the people sat in the open square before the house of God, trembling because of this matter and because of the heavy rain. 10And Ezra the priest stood up and said to them, "You have broken faith and married foreign women, and so increased the guilt of Israel. 11Now then make confession to the LORD, the God of your fathers and do his will. Separate yourselves from the peoples of the land and from the foreign wives." 12Then all the assembly answered with a loud voice, "It is so; we must do as you have said. 13But the people are many, and it is a time of heavy rain; we cannot stand in the open. Nor is this a task for one day or for two, for we have greatly transgressed in this matter. 14Let our officials stand for the whole assembly. Let all in our cities who have taken foreign wives come at appointed times, and with them the elders and judges of every city, until the fierce wrath of our God over this matter is turned away from us." 15Only Jonathan the son of Asahel and Jahziah the son of Tikvah opposed this, and Meshullam and Shabbethai the Levite supported them.

16Then the returned exiles did so. Ezra the priest selected men, heads of fathers' houses, according to their fathers' houses, each of them designated by name. On the first day of the tenth month, they sat down to examine the matter; 17and by the first day of the first month they had come to the end of all the men who had married foreign women.
#1: REPENTANCE REQUIRES STRENGTH AND RESOLVE (VV. 1 – 4)
Repentance is not an act for the weak of heart and it is not an act for the game player; it is a serious activity because it is a matter of spiritual life and death that echoes throughout eternity. Verses 1 – 4 of our text are a good illustration of the strength and resolve that it takes to engage in the process of repentance.
Ezra is on his face before God, praying and confessing sin on behalf of the nation of Israel and he is surrounded by a great gathering of people who are following his lead and are weeping bitterly over their sin. This is what true revival looks like; a multitude of people weeping over their sin before the Lord.
And in the midst of the revival, one of the leaders (Shecaniah) stands up and makes a clear confession of sin and faith when he says, "We have broken faith with our God… but even now there is hope" (v. 2). Sin and faith are a complete confession for the believer; confessing sin and faith go hand in hand.
But this act of repentance, this confession of sin and faith, is not for the weak of heart and it is not a silly game for those who like to play games with eternity; repentance requires strength and resolve. This is why Shecaniah challenges Ezra to lead Israel forward in repenting from the sin of intermarrying with unbelieving nations.
Shecaniah is literally calling for a nationwide divorce ceremony. This will be no easy task but Shecaniah challenges Ezra to be strong and to lead the work of repentance and he even encourages Ezra with the reminder that he is not alone in leading what needs to be done.
I think it is important to note here that God hates divorce; the Bible is clear that the only reason for divorce is for instances of unfaithfulness, abuse, or abandonment by an unbelieving spouse and if someone begins to follow Jesus and their spouse does not follow Jesus but they are willing to live in peace with the believing spouse then it is best for the couple to remain together (1 Cor. 7).
But the case of what we see here in Ezra, is a case of either men who divorced their Jewish wives and took Pagan wives to further establish their social standings or these men never actually married these women but were instead living with them as though they were married but the end result was still the same; this was an extremely sinful circumstance that had infected the entire nation of Israel and extremely sinful circumstances call for extreme repentance which requires strength and resolve.2
#2: REPENTANCE REQUIRES COMMITMENT AND REMORSE (VV. 5 – 6)
The act of repentance cannot be done half-heartedly, and it cannot be done with a non-chelate attitude; there must be a wholehearted commitment and there must be an attitude of genuine remorse. Again, verses 5 – 6 provide us with a case study of what this looks like.
Ezra responds to the challenge from Shecaniah, and he calls everyone to make a promise to do what he says and then he withdraws to a quiet place where he neither eats nor drinks anything because he spends the night mourning over the sin of Israel. The description of David's prayer of repentance in Psalm 51 comes to mind here as David spends considerable time weeping over his own sin. Again, repentance requires commitment and remorse.
#3: REPENTANCE REQUIRES COMMUNITY AND WILLINGNESS (VV. 7 – 12)
Repentance is not something that is done in isolation, and it certainly cannot be done when someone is unwilling to walk through the process of restoration and reconciliation; repentance includes the desire to reconcile and restore a relationship that has been broken by the faithless act of sin (namely our vertical relationship with God and our horizontal relationships with others).
In our case study here in Ezra, we can easily see that repentance is a community project that must be done willingly. In verses 7 – 12, Ezra puts out a proclamation of what must happen for Israel to repent of their sin. Israel must: gather within three days or the consequences will be severe.
The beauty of the story is that Israel does gather to hear a public recounting of their sin as they trembled because of the severity of the matter and because of the heavy rain. And as they trembled, Ezra called the community to separate themselves from the sin that would kill them, and they responded willingly. Repentance requires community and willingness.
#4: REPENTANCE REQUIRES PATIENCE AND AN ACTION PLAN (VV. 13 – 17)
Repentance cannot be done with reckless impatience (though we must be quick to engage the process) and it must be accompanied by tangible actions. In verses 13 – 17, the nation of Israel as a community was more than willing to repent and they confessed that their sin was very bad, but they also recognized that repentance could not be done quickly. So, they put together a plan of repentance that spanned across a three-month period of time and employed the help of community leaders to guide the process.
The high point of this whole thing is that Israel actually followed through by patiently executing the action plan they put in place; they actually engaged the process with tangible patience. In this instance, Israel put their money where their mouths were; they backed up their words with visible actions.
CONCLUSION…
In conclusion, I want to note that repentance is not a destination; it's a process; it's a discipline that will not be complete until we walk into Heaven. The discipline of repentance should be a visible part of every believer's lifestyle. If there is no sin, then there is no need to repent and if we claim to have no sin then the Scriptures are clear that we do not know the Savior (1 Jn. 1:6 – 10).
Sin and repentance are very serious matters. Sin is what nailed Jesus to a cross that belonged to us and repentance (turning from sin to Jesus in faith) is what the Christian life is all about. Repentance requires strength, resolve, commitment, remorse, community, willingness, patience, and an action plan. These things go against the very nature of our human sinfulness because in our human sinfulness.
But the essence of what it means to be a Christian is to pick up our crosses like our Savior did and to put sin to death on a daily basis through repentance. We best be killing sin or sin will be killing us and the place we do the work of repentance is in the shadow of a bloody cross, in the doorway of an empty tomb, in light of the hope of Heaven! – Amen!
---
1 Unless otherwise specified, all Bible references in this paper are to the English Standard Version Bible, The New Classic Reference Edition (ESV) (Crossway, a publishing ministry of Good News Publishers, 2001).
2 Derek W. H. Thomas, Ezra and Nehemiah: Reformed Expository Commentary, (Phillipsburg, New Jersey: P&R Publishing, 2016), 183 – 184.